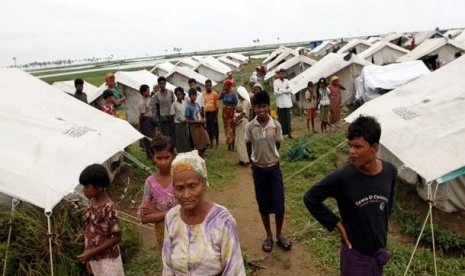 Around 50 thousands internal displaced persons of Rohingya stay in Baw Pha Du camp in Sittwe, Rakhine. (illustration)
REPUBLIKA.CO.ID, JAKARTA - Myanmar's Ministry for Foreign Affairs finally issued visa and entrance permit to Rakhine State for medical team of Medical Emergency and Rescue Committee (MER-C) Indonesia. Five MER-C activists fly to Yangon, Myanmar, on Wednesday at 05.00 in the morning.
"They are scheduled to distribute the aid for two weeks," Manager Operational MER-C Rima Manzanaris. The team consists of specialists, general practitioner, surgical nurse, and logistic.
Manzanaris said MER-C had been waiting for a month to get permission letter from Myanmar. The team hopes they can enter the location of the conflict and refugee shelter in Rakhine State where they will give aid and medical service. As soon as they arrive in Yangon, they will proceed to Indonesian Embassy to Myanmar to hold further coordination on MER-C medical mission in Rakhine State.